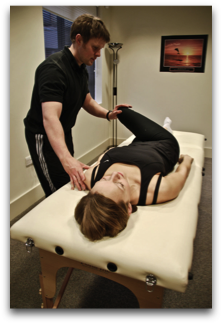 About Craig
Craig is one of the UK's leading specialists in the field of exercise rehabilitation. Working in liaison with several north London hospitals, as well as consulting for professional sports teams such as Sheffield Utd FC, Craig has helped many people achieve their rehabilitation goals.


Craig graduated in Sport & Exercise Science in 2003 and began working alongside physiotherapists in the north London area with clients suffering from a range of rehabilitation issues.


He continues to improve his knowledge and skills, studying various courses run by some of the leading institutes in exercise rehabilitation as he sought out the most complete approach to treating the human body. His combines these methods with additional toolkits - including Myofascial release, Muscle activation technique and Instant muscle strengthening techniques - which are used to increase the effectiveness of the rehabilitation programmes.


Craig currently works from his base in Muswell Hill, seeing a mix of private clients and frequently working in conjunction with top UK Rheumatology consultant Dr HLC Beynon, receiving referrals from various north London hospitals. His work at Sheffield United FC has seen him develop a complete assessment programme for players, as well as overseeing the rehabilitation programmes of players such as Stephen Quinn and Lee Williamson.

Craig has recently been featured in a biography of singer Edwyn Collins -"Falling & Laughing" describing the singer's journey to overcome severe brain injury following a stroke – Craig was a major part of the team responsible for helping Edwyn back to health and mobility.

Over 6,000 hours of client contact experience means that Craig has developed a unique style and an unparalleled knowledge of the body - allowing him to achieve results with patients who have often tried and failed with many other approaches. Craig uses a combination of the techniques he has learned and adapted to bring about whole body balance; where many physical therapies treat the 'problem area'.

A great believer in patient education, Craig's aim is that the client should learn the tools to understand their own physical body – allowing them to achieve long-term relief from pain and dysfunction, as well as increased strength, improved posture and greater overall wellbeing.